Cripes! it's ages since I posted anything but I've managed to do a few things.
This my effort for the Craft Place challenge for a card using one colour. For mine I chose shades of lilac and hightlights of purple. I haven't put a sentiment on it but I'm thinking of sending this to a special friend up in Scotland who is celebrating being with her man for three years now.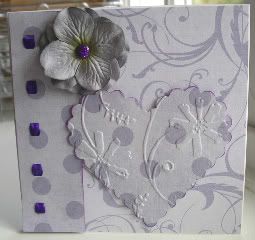 I loved this cow knitting from Pink Gem Designs, they are always sharp and clean when you stamp. I made the card for a little lady called Kaitlyn who enjoys working with her granny aka craftygranny from MSE. It's lovely to know that we have budding crafters, get the buzz when you're young and it seems to stay forever. Hugs! Kaitlyn and I am sending you a photo of me in the big hat and feathers and all the bling and I do have a tiara that I wear when I am doing the housework!!